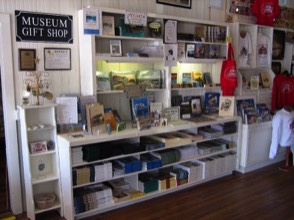 Kiwanis Ornaments
Ornaments by the Stuart Kiwanis Club and are available at Stuart Heritage Museum. The theme is the 40th Anniversary of Stuart's
Save Our Beaches
campaign in 1974, the 100th Anniversary of the City of Stuart, and the second opening of the new Veteran's Memorial Bridge across the St. Lucie River to Palm City. Stop by the Museum to purchase a fine ornament—a collector's keepsake. All proceeds benefit Stuart Kiwanis programs for local children and the non-profit Stuart Heritage Museum.
Porcelain Turtles and Pelicans

The turtles have just arrived! This is turtle nesting season along Hutchinson Island and young and old will love these little porcelain turtles. There are a few different varieties to select from of the cute turtles. To keep them company, there is also a friendly pelican to add to your collection.
Celebrate the Centennial with a Limited Edition Print by Kevin Hutchinson

Exclusive to the museum gift shop is a large print of work by local artist Kevin Hutchinson. The piece features Woodmen Hall as it appeared in 1914. Numbered limited edition prints are $25 and are signed by the artist.
DVD of Martin County History

Enjoy this DVD with a brief history of Martin County, including photos, videos and narration. It is a great and informative overview of Stuart and its surrounding neighborhoods and locations. Get your copy in a jewel case (playable on your TV DVD player or computer) at the Museum for a $5 donation.
Books
In addition to several native Florida cookbooks, the museum has these and many other books for sale:
By Sandra Thurlow
• Stuart on the St. Lucie
• Sewall's Point
• Historic Jensen and Eden On Florida's Indian River
• Gilbert's Bar House of Refuge—Home of History
By Ernie Lyons
• The Last Cracker Barrel
By Alice L. Luckhardt
• O. B. Padgett—A Florida Son
(about Padgett and the Ashley Gang)
By Theodore Platt
• The Big Bubble
• The Barefoot Mailman
• The Flame Tree
Postcards
Cat's Meow Collectible

A small wooden keepsake of the Stuart Heritage Museum